Ceramic Crowns and Inlays
Dentistry has come a long way since porcelain crowns that fractured easily. Today there are state of the art ceramic materials made from Zirconium and other high tech substances. The crowns are milled by machines that have received digital impressions of your teeth.

Laminates or Veneers
Laminates or Veneers are thin shells of porcelain that are bonded to the front teeth to modify the shape and color of the existing teeth. Like for crowns, there are several different companies that market their laminates' trade name.

Cosmetic Bonding
It is very common, especially after whitening the teeth, to want the perfect smile. If there is just minor chips, wear, irregularities, or space to fill in, it is OK to use Freehand Bonding.

Teeth Whitening
Come in for a Free Consultation - teeth whitening does wonders for your smile and self confidence. As with everything else in dentistry, the products and techniques have vastly improved over the years.

Composite Fillings
When considering tooth fillings, one of the options available are composite fillings which are made from durable plastics that are similar in color to natural teeth. Because the composite fillings are tooth-colored, they look more natural and are less noticeable compared to other types of fillings.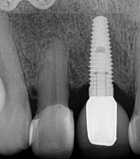 Dental Implants
Implants are usually the treatment of choice to replace missing teeth. However there must be enough room, and the bone thick enough. Implants are preferred to a bridge in that it is free standing, and does not involve cutting down adjacent teeth. It is easier to clean and maintain, and the cost is similar.

Dentures
Once many of the teeth have been lost, or decayed to the point that they are non-restorable; the best restorative option is sometimes a complete upper and lower denture. Dentures have the ability to restore a dentally compromised patient to a very esthetically pleasing and functional result.

Laser gum therapy
ARESTIN, as this antibiotic is known, has a long and successful track record of university studies, and private practice use and surveys.

Digital X-Rays
Digital X-Rays offer an amazing leap forward in technology for dentistry. You get to see the X-Ray instantly on a monitor in front of you with only half the radiation exposure!

Clear Orthodontic Retainers
Clear Orthodontic Retainers offer an immense improvement in aesthetics and comfort – whether you are actively moving teeth, or stabilizing your new alignment.

Nightguards
Ever catch yourself grinding or clenching your teeth? This is very destructive to your teeth causing severe tooth wear and cracked teeth over a period of years. Also the TMJ - Tempro Mandibular Joint can get worn, start clicking, and become painful.

Desensitizing Products For Sensitivity
Sensitive teeth is one of the most common complaints adults have. When cavities are ruled out, it is usually due to exposed root structure after gums recede. It gets worse after the roots are worn down or eroded by over brushing, grinding, and acids.